As Mr. Sun starts showing himself more often and for longer periods, it's inevitable I'll want to pack up the tea setup and move outside for a session en plein air. The back porch is South-facing, so if the sun's shining it doesn't need to be much over 50ºf to feel like summer back there. A warm cup of tea in hand, and it's even more amicable.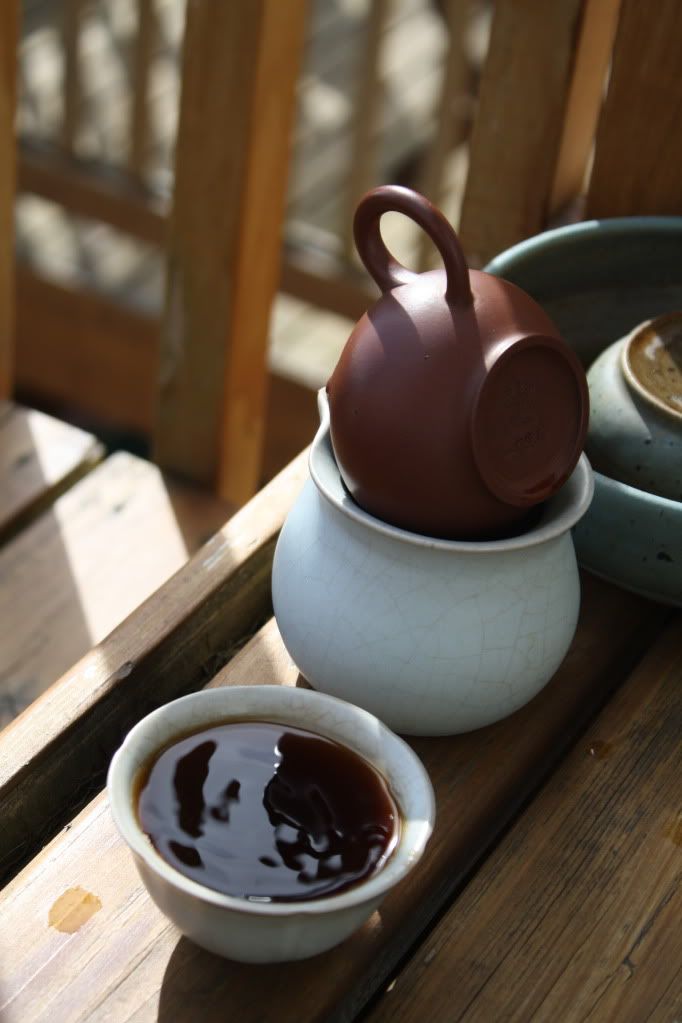 The other day, during my first outdoor tea experience of the year, I sort of realized that, for me, tea on the back porch is mostly pleasurable for the enjoyment that sitting in the sun brings. The open air seems to significantly reduce the sensitivity of my nose and taste buds, and on cool spring days the water can take forever to heat up! I've had several sessions with rather nice teas that just came across as ho-hum; perhaps the wind carries off some vapors and aromas that tend to linger better in a still room. Additionally, there's more competition with other delightful aromas--the buds are on the trees, people are mowing lawns, and let's not discount the sensory competition of chirping birds and bright colors (my brain can only focus on so much stimulation at once). There
is
less of a wait for the cup to cool to drinking temperature, though, and direct sunlight brings out a lot of interesting nuance in the surface of yixing ware that you don't normally get inside. The moral of the story is probably just that I should just select simple but enjoyable everyday teas when I get the bug to venture outside with my tea set. That, and it's time to start working on an indoor sun room solely dedicated to tea drinking.