It's once again green tea time. As I've mentioned in
past spring posts
, I really look forward to drinking Chinese greens while they're fresh from the recent harvest. This year I've been drinking more than ever--mostly from two of my usual suspects in
Jing Tea Shop
and
Teaspring
. Today I decided to sit down and try the two long jing I purchased this spring for the sake of comparison.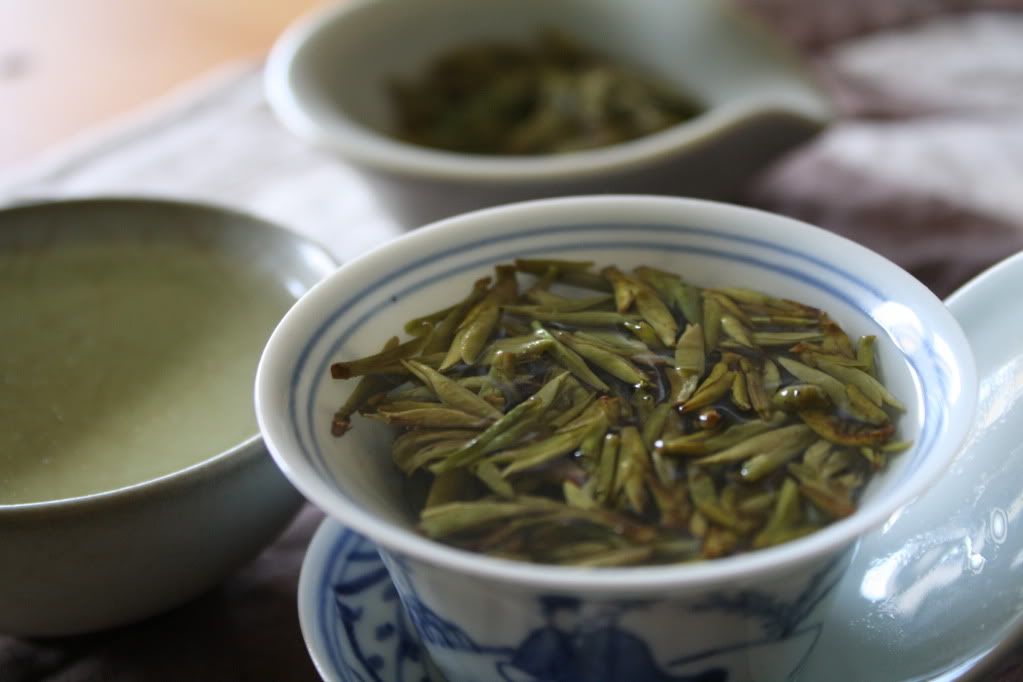 I've been brewing my teas pretty casually this spring--bring the water to a boil, then fill my celadon fair cup with water. When it's cooled down to the proper temperature (sometimes I'll pour it back and forth between a second fair cup and the cup I'll be using) I'll start steeping the tea, topping the cool water fair cup from the kettle's hotter water with each infusion. After I decant the tea into the second fair cup, I'll pour about half of it into the drinking cup, mixing the next infusion with the remainder, and so on. While this method hardly allows for scientific scrutiny of each infusion, that's not what I'm really looking for and the overall session tends to produce a more consistent standard of quality from each cup.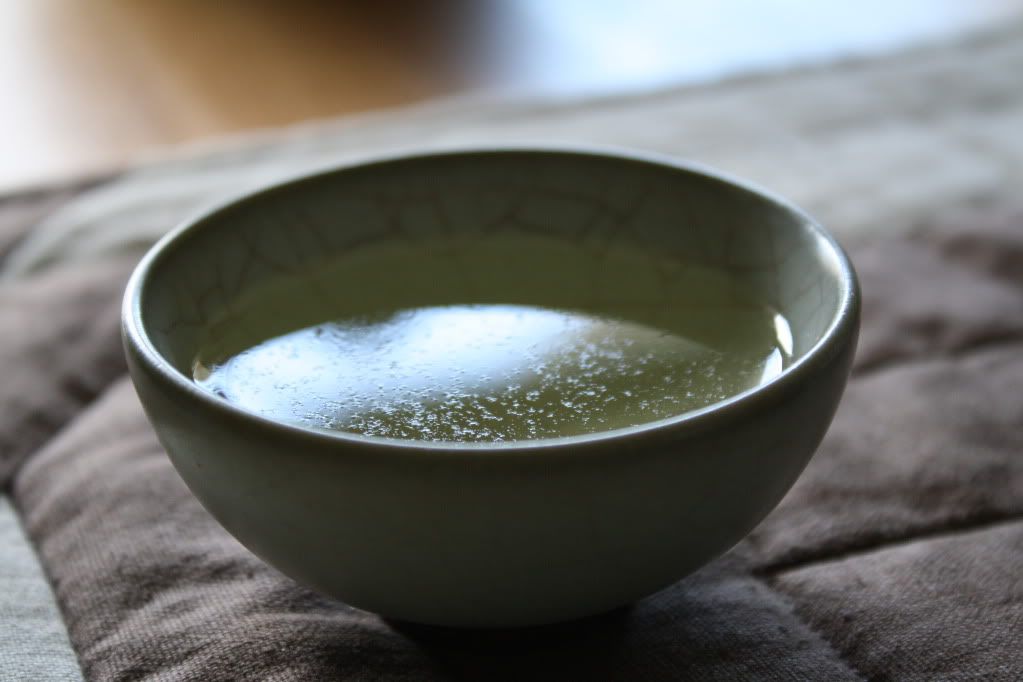 That's some hairy tea.
So, that's how I brewed my dragonwell today. First, Teaspring's
Emperor Long Jing
and second, Jing's
Shi Feng Long Jing
. I get the impression from reading the notes that Jing's tea is a bit more on the hand-selected side, but who knows for sure? Both sites have offered teas that I've enjoyed for the last four years or so, and I usually have very few objections. To my surprise (I thought Jing's would be better), they're both pretty good long jing--but different. The Emperor example is more up-front, with a more robust body, a bolder flavor and more of the chestnut notes people usually associate with long jing. The Shi Feng example, though, is subtler, with a lot of sweetness but less of a bold body. It reveals its character in the aftertaste rather than immediately, and develops more of a vegetal flavor throughout the infusions, even appearing greener to the eye after the session ends. As usual, I'm glad I tried both teas together, because I likely wouldn't have picked up on the differences trying them days apart.
Somewhat on the subject, I just added an Eilong studio gaiwan to the
Teaware For Sale
page.