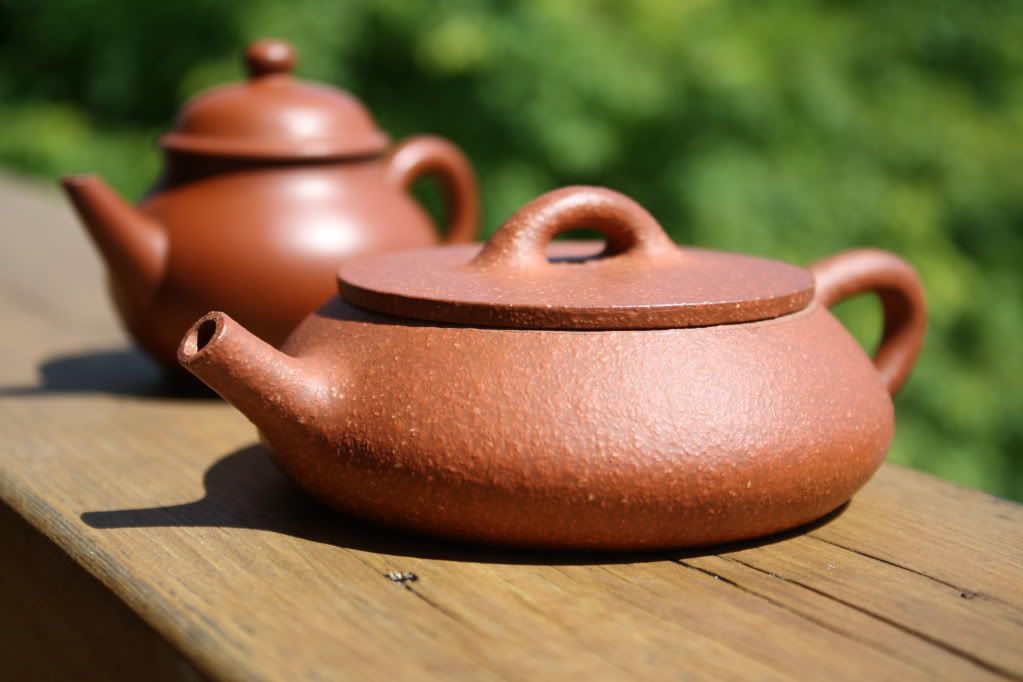 Nothing too exciting happening today--just sharing a relatively recent and strange Yixing purchase and some thoughts on Yixing in general. I've coveted a nice, classic
shi piao
teapot for a while, since the ones I've owned so far haven't really worked out (too big or just not good enough). It's a classic shape that I find attractive in a lot of ways--the unassuming-yet-jollily-angled spout, the graceful lid handle, the characteristic shape of the pot handle, and the generally solid performance pouring and accommodating most tea types. So, I purchased this one from
Jing Tea Shop
, which, incidentally just listed a handful of nice-looking
xiao pin
teapots for those in "need." At 120ml it's a little larger than my ideal size (usually around 100ml) but I enjoy having a slightly larger pot around, and you don't always have to fill the thing completely full. When the pot arrived, though, I was quite surprised--thought the listing described the pot as "flat," the pictures couldn't quite capture just how smooshed this pot actually is--it's like somebody squashed it before it was fired, and the main body is barely over an inch tall (for comparison you can see my tiny 70ml hong ni dancong pot, which looks immensely tall in comparison).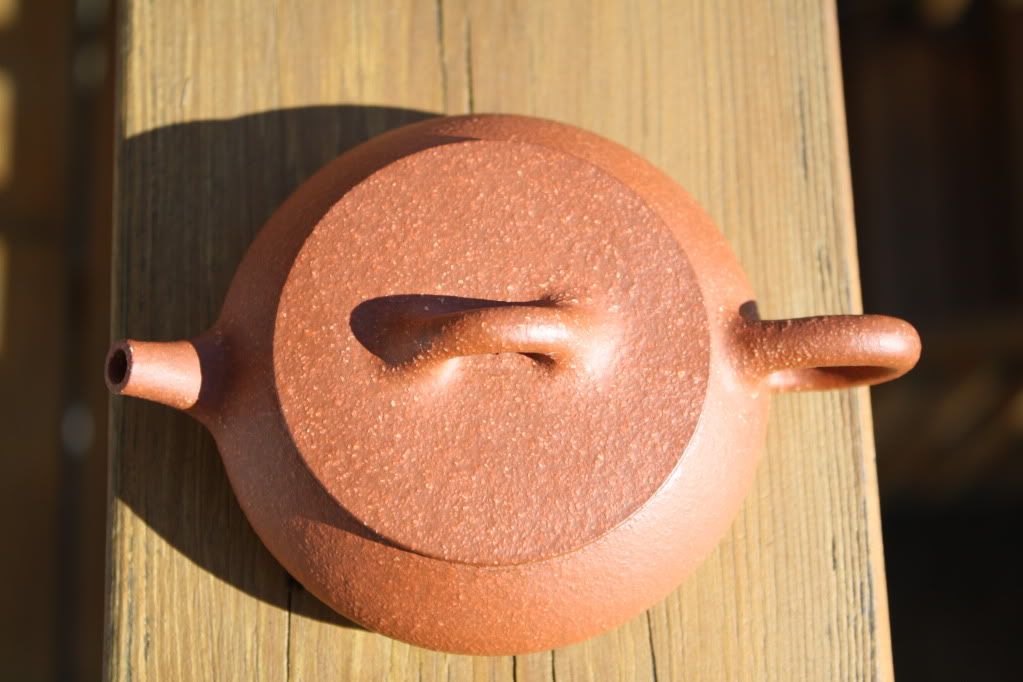 Consequently, the pot is quite wide (probably about four inches) for its volume. Also interesting is the clay, which is described as "Cu Sha Hong Pin Zi Ni." "Cu Sha" is straightforward--there are some pretty knobbly sand grains blended into the clay, but "Hong Pin Zi Ni" is something I haven't heard of before--pin zi ni is a general term to describe a blend of different zi ni clays, so there can be a pretty broad spectrum of different appearances between different clays labeled as pin zi ni. But the "hong" is a strange addition--is this pin zi ni blended with hong ni? Or is there a type of clay that somehow qualifies as zi ni that's actually red? The answers to these questions sit firmly in the "hell if I know" category. The origin of the clay's blending aside, it's pretty cool-looking. The picture below probably best displays the simultaneous visibility of both red, more traditionally brown pin zi ni, and the sand in spite of the bright conditions caused by the "hot" Seattle sun (hey, I'm not complaining).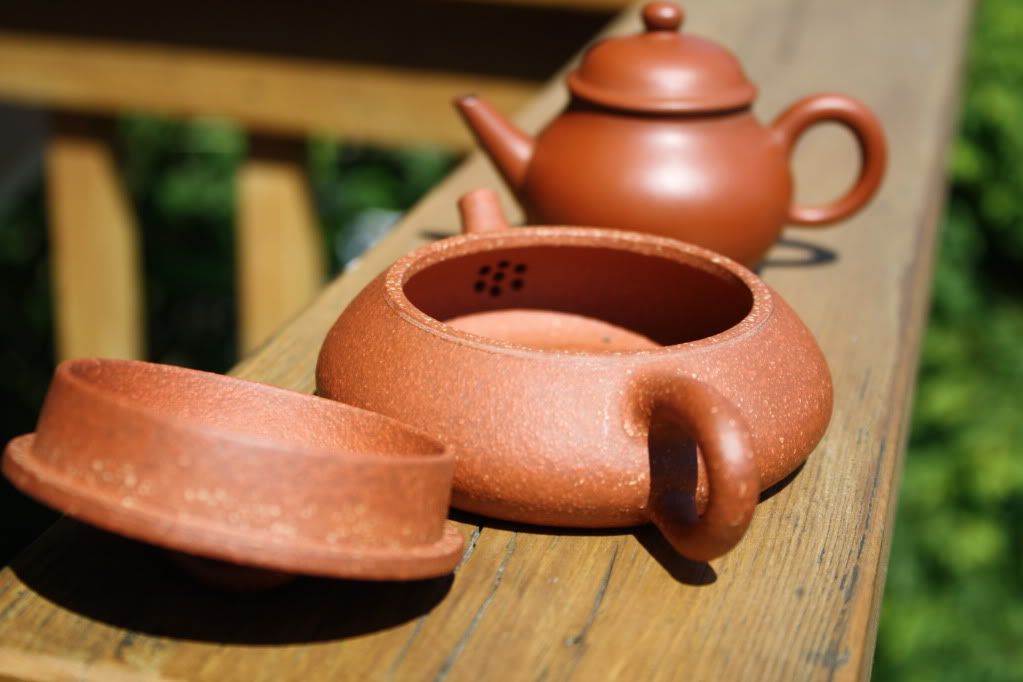 Despite how unusual it is, this pot actually works quite well--obviously the lid opening is huge, so it's quite easy to get the leaves in and out, and the pour is much smoother than I expected--a lot of times weirdly-shaped pots don't perform very well. Another thing I've noticed using this slightly larger pot is that the traditional "rules" about tea-type-to-pot-shape pairing become less and less important the larger the pot is--if this shi piao were 80ml, it would be quite ill-sized for brewing pellet rolled oolongs, as the tea wouldn't have the proper space and shaped area in which to expand. A bit larger, though, and there's plenty of room, so the pot can be used with really just about any kind of tea, though I'm sure some work better than others with the unusual clay. I've only been using the pot occasionally to brew mostly steeped-out teas or a weak pot with just a few leaves, so I haven't been too picky about what goes in there. Works for me.