It's been a while since I promised
Matt
a post about this tea--partly because Seattle's weather has been pathetically uncooperative for tea photo shoots. Anyone who's followed the online pu-erh market for any length of time has surely noticed the most recent surge in prices of both aged and young pu-erh. Unsurprisingly, a lot of us have felt a bit alarmed and have made attempts to nab up a few teas before their prices reach unpurchaseable levels--nothing like a good old market panic to drive the prices up even more. Having avoided buying much aged pu-erh for a while, I decided to join in the frenzy and purchase some teas I'd been eying for a while. Like most of the aged pu-erh I tend to post about, this tea comes from
Essence of Tea
, which means that the strength of the British Pound Sterling versus the US Dollar is an additional factor. Thankfully it's been pretty stable around $1.60-$1.65 as of late--about average for the last few years, but thankfully nowhere near the $2ish levels it reached around '06. I suppose the point is that, for once, I actually planned a bit before plunging into this purchase.
Let's find out: One, two, three...three.




So, this is only the second full
tong
of pu-erh I've ever purchased. What was the first, you ask? Back in 2007 when I knew very little about pu-erh I bought a tong of
this tea
on sale from Royal Puer in celebration of the shop's first anniversary, thinking it'd be good to have a large amount of "some pu-erh," as if all pu-erh is pretty much the same. Talk about falling down the rabbit hole. For the foolish but fairly inexpensive $70 investment, it's a pu-erh of acceptable quality, though I have my doubts as to how well it'll age starting from complete immaturity in the Pacific Northwest. My main regret is the fact that I ripped the bamboo wrapper completely off right after receiving the tea and the cakes have been loose ever since. With my most recent
tong
purchase, my past mistake resulted in behavior of a polar opposite nature--perverse neurosis. So obsessed with keeping the
tong
whole for who knows how long, I decided I needed to buy
one more
cake to work on in the meantime. Perverse neurosis.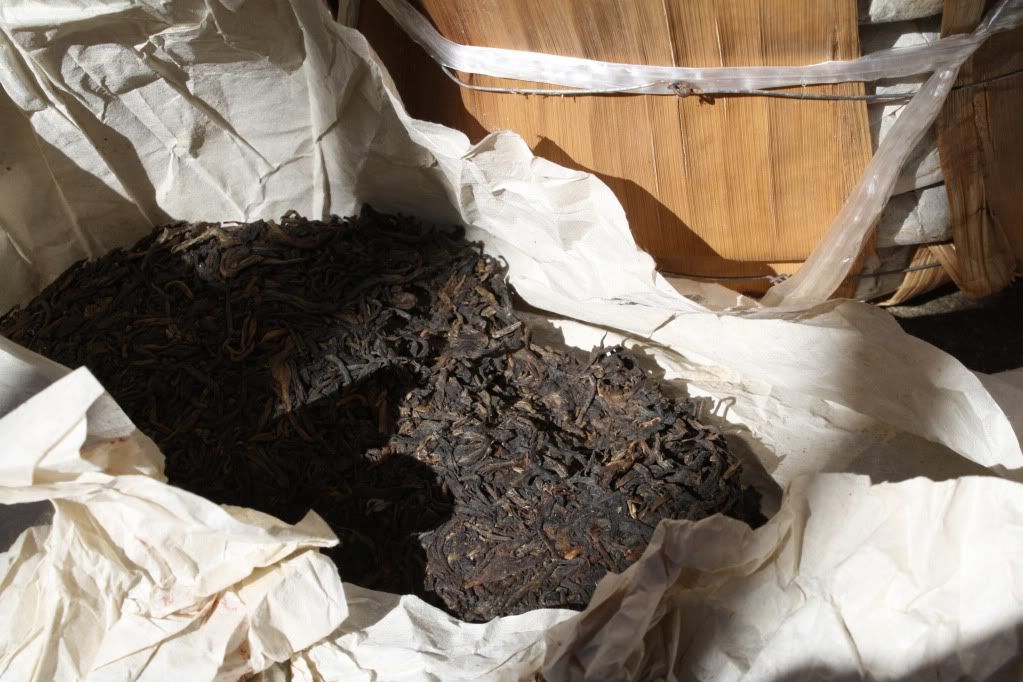 Oh no, almost gone! Better buy another cake so I don't have to break into the tong!
Now that I've so greedily hoarded a substantial stash of this tea, perhaps it'd be a good time to try it for the first time? Joking! Only joking--I tried numerous samples of this tea before making the purchase. What do I look like, 2007 me? This 90's cake is by no means an exceptional aged pu-erh. Like very few aged pu-erhs, though, it actually inhabits a sweet spot of agedness, quality and price I like to call "value." Since the tea's only labeled "90's," I assume it's toward the late end of the decade. If considered as a twelve-year-old aged tea, it's remarkably mature (even for a tea from the mid- or early-90's, I'd say). There's very little in the way of astringency remaining, the liquor is quite dark and it's only bitter if egregiously oversteeped or too many leaves are used. I can only assume that it's gone through some fairly humid storage, though the cake surface is really quite clean and mold-free. There is, however, an attractive staining of the wrapper and tickets that would indicate a bit of humidity, juiciness or both.
Flavor-wise, it's no paragon of complexity--the notes are mostly what I'd expect from my past experiences with 90s CNNP--standard pu-erh plus a solid dose of sticky
huang pian
sweetness. There's plenty of humidity and earth in the flavor to corroborate the other evidence, but this tea's storage is by no means as tough to handle as the stomach-churning (for me, anyway) Hong Kong storage of its similarly-priced EoT brethren, the
Late 90's Grand Yellow Label
. There's no sparkling complexity that can be found in more special aged
sheng
, but it's a far cry from the one-dimensionality often exhibited by aged loose teas, for example, providing a handful of simultaneous flavor and mouthfeel experiences and a noticeable progression during a long brewing session. This is a tea I thoroughly enjoy drinking now and will be happy to continue drinking whether or not its aging progresses, which gets at the primary motivation behind this purchase.
I find myself less and less often looking for amazing, unparalleled examples of a certain type of tea, but more often for good, solid examples that are "the way I like it" and can be enjoyed repeatedly without the stress of budgeting a tiny quantity. Not that I don't appreciate amazing tea, but I can't afford a ton of it and tea drinking is such a part of my lifestyle that I can't always pay the kind of attention that extremely expensive, good tea deserves. This tea fits bill, and after buying so much of it I can virtually drink as much as I want without any fear of running out before finding out whether or not it's continued aging. Also importantly, if I simply feel like casually drinking "some pu-erh" I can turn to this tea instead of a much more expensive one, thereby making my more modest stocks of those teas last much longer. In the months since I special ordered my
tong
I see the full cakes have sold out. I'm hoping David and Kathy restock this tea soon, as I feel it's probably the best value for its agedness on the Western-oriented web--what an affordable way to learn about aged pu-erh! At roughly $90 for a cake, this tea is priced below innumerable cakes of 2005 or later vintage that provide no insight into the experience of drinking
aged
pu-erh, an experience I feel is usually unjustifiably difficult and expensive to achieve in the Western tea drinking world.